Water Damage Restoration, Mold Remediation, Storm Damage Repair, Water Extraction, Cleanup & More in Charlotte, Concord & Beyond.
Carolina Water Damage Charlotte isn't your typical disaster restoration company. We specialize in providing water damage restoration services, from almost any source. From sewage/septic backup repair & appliance water leaks to flood damage & storm damage, there is no project that is too big for us. We are fully licensed and IICRC certified, so you'll know that you are in good hands.
When you talk to one of the experts at Carolina Water Damage Charlotte, we will begin our water damage assessment immediately. We will ask questions about the size and scope of the damage, as well as the source. From there, we will determine how quickly someone needs to be send out, in water damage emergencies, we will have a team to you as quickly as possible. For smaller water damage issues, we can schedule a time that is most convenient for you. However, we will come equipped with the right tools to make sure we can start the restoration process as quickly as possible.
When our water damage charlotte based team arrives to your location, we will immediately stop the spread of water damage and repair the source of the water damage. Then we will take an assessment of the affected areas and begin the water extraction and water dry out process. Once the water has been removed and the rooms are dry, we will do an inspection for any toxic mold that might have started growing. If there is mold growth, we can provide mold remediation Charlotte as well. Next, we will clean out any debris that has been left around, take inventory of damage personal items & furniture, and then we will begin repairing the affected areas.
After repairing the affected areas, we will move on to the final step of our Charlotte water damage restoration process. This is where we apply new coats of paint, replace carpets, flooring, or subflooring if necessary. You can rest assured that when we finish your water damage restoration project in Charlotte & the surrounding areas, there will be no trace of water damage. In fact, you may not even be able to tell that there ever was a water damage issue, to begin with. We also file your insurance claim for you, which means one less headache you have to deal with.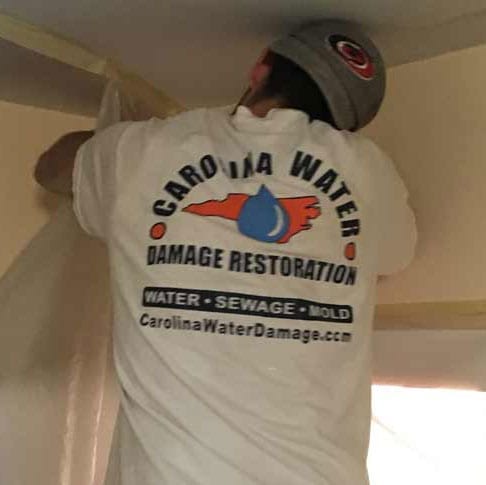 About




Carolina Water Damage 



Charlotte & The Surrounding Areas
Carolina Water Damage Restoration has been serving Raleigh NC for years and in 2020, we expanded our operations into the Charlotte region. Charlotte is a great place to live, but thousands of homes, apartments, and businesses are damaged by floods & storms every year. Even the remnants of hurricanes can hit Charlotte causing wind damage and water damage. Of course, it's not just natural disasters, appliance leaks, leaky pipes, and plumbing issues can all also lead to water damage in your home. Carolina Water Damage Charlotte provides superior water damage repair services to the Charlotte-Mecklenburg area & beyond including, but not limited to the following cities and towns: Charlotte, Concord, Harrisburg, Huntersville, Mountain Island, Northlake Mall, Indian Trail, Matthews, NoDa, Stallings, Gastonia, Weddington, Mcadenville, Belmont, Pineville, Kannapolis,  Davidson, Lake Norman, Mount Holly, Mooresville, Rock Hill, Pinehall, Waxhaw, and beyond.
Why Choose
Carolina Water Damage Restoration
If You Live in or Around Charlotte?
We understand that you have a number of different choices when it comes to water damage restoration, mold remediation, sewage backup cleanup, flood damage cleanup & storm damage repair. We work hard to build a good relationship with our clients and make sure to communicate with you throughout the water damage restoration project. This is because we understand that, even though water damage restoration is routine for us, for you it's not something that happens often and can cause a lot of stress. When you work with Carolina Water Damage Restoration, we are able to work with any homeowner's insurance that you are using to help take one more hassle off your plate. While we don't like thinking that you'll have to use our services again, we always treat every customer as if they will be a repeat customer in the future. You are always in good hands with our water damage charlotte based experts. If you are experiencing a water damage issue and need emergency water damage repair, water damage cleanup, mold remediation, storm damage repair or flood cleanup, give us a call at 980-308-2847 24 hours a day, 7 days a week.
See What Our Customers Have To Say!
Get a Free Consultation For Water Damage Restoration in Charlotte & Beyond
Contact Us!