Water Damage Repair & Cleanup, Mold Removal, Storm Damage Restoration, Flood Clean Up & More in Huntersville & Beyond
Carolina Water Damage Restoration in Huntersville provides full service, comprehensive water damage repair, cleanup and restoration in Huntersville NC. we are IICRC certified and fully licensed to work on any water damage project, no matter what the cause. From sewage backup & flood damage, to appliance leaks and hardwood floor water damage restoration., you can rest assured you are in good hands with our water damage professionals.
You'll notice we are different from your first conversation with our team. From the get go, we begin asking questions to figure out the scope of the water damage so that when our team arrives, we are fully prepared to stop the water damage from spreading by fixing the source of the issue. We want to make sure that our team is able to get the affected areas repaired and restored as quickly as possible to insure minimal impact on your daily life.
Once our team of water damage restoration experts in Huntersville arrives at your location, we will locate the source of the water damage and make sure it was repaired properly, before setting up a containment perimeter to make sure that we stop the spread of water damage. We then begin drying out the areas and removing any standing water that has been left from the damage. Even if the rooms appear dry, we will make sure to run tests for humidity to make sure they are at the appropriate levels. We will also make sure to test for mold and if we find any, we provide mold remediation services in Huntersville as well.
After doing any repair work that needs to be done and making sure the area is mold free, we begin the finishing touches. This is where we paint what needs to be painted, install new flooring or carpeting if necessary, and make sure your home is in the same (or better) condition than it was before the water damage occurred. When we leave, you shouldn't notice any sign that there was water damage at all. We will also file your claim with your homeowners insurance to take one less chore off your plate.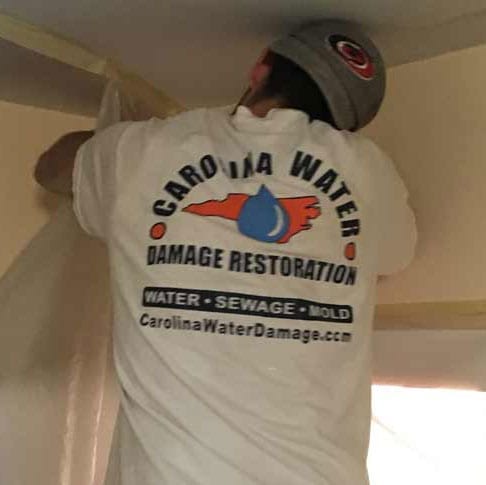 About




Carolina Water Damage Restoration



in Huntersville NC
Carolina Water Damage Restoration got it's start serving Raleigh & the Triangle. In 2020, we expanded our service area to include the Charlotte market. We understand that Charlotte and the surrounding areas are appealing places to live, but water damage disasters can happen here throughout the year. Large storms, flooding, and sewage backup don't have set times when they strike. That's why we are proud to provide our high quality water damage restoration services to Huntersville, Charlotte, Harrisburg, Belmont, Concord, Northlake Mall, Indian Trail, Gastonia, Mcadenville, Stallings, Mountain Island, NoDa, Matthews, Kannapolis, Pinehall, Waxhaw, Kannapolis, Gastonia, Davidson, Lake Norman, Mount Holly, Mooresville,  & beyond.
Why Choose
Carolina Water Damage Restoration
If You Live In Huntersville?
When water damage happens, it can impact your life and cause a lot of stress. Carolina Water Damage Restoration in Huntersville understands that you have a number of options for mold remediation, sewage backup cleanup, storm damage repair, and flood restoration in Huntersville. That's why we strive to provide a quick response so we can fix your water damage issues as quickly as possible. We are always prepared for any water damage restoration project, residential or commercial, that we are tasked with. Because we are IICRC certified, you know that you're in good hands. If you are in Huntersville and need emergency water damage repair, storm damage cleanup, mold remediation or any other water damage restoration service, call us at 980-308-2847 or contact us online 24/7.
See What Our Customers Have To Say!
Get a Free Consultation For Water Damage Cleanup & Repair in Huntersville NC
Contact Us!