Storm Damage Repair, Mold Remediation, & 24/7 Emergency Water Damage Repair & Restoration in Matthews NC
If you own a home or business in Matthews NC, you never want to have to call a water damage restoration company, but it's good to have one you can count on if you need water damage restoration. Carolina Water Damage Restoration of Charlotte specializes in water damage restoration no matter what caused it. We provide our services to both residential & commercial customers in Matthews & the surrounding areas. Because we are fully licensed and IICRC certified you'll always know you can count on us.
When you call or contact Carolina Water Damage Restoration, we'll ask the right questions to find out the cause of the water damage and determine the initial scope of the project. That way, when we deploy our quick response water damage repair team, they will know what to expect. When our team arrives they will immediately find the source of the water damage and make sure it is repaired to stop the water damage from spreading. Once we have stopped the water damage at it's source, we will make sure the damage is contained and assess the affected areas.
Following the initial assessment we will begin our water dry out and water damage cleanup process. Depending on the severity this part of the process can take a while, however, we make sure that the moisture & humidity levels in the affected areas are brought within acceptable levels before we start restoring the spaces. During this phase, we also make sure that there is no mold growth or other pathogens that are lingering around (especially after a sewage backup). We will also take inventory of any personal property or furniture that has been damaged beyond repair so we can submit this with your insurance claim.
Next we begin the water damage repair process. This is where we start repairing cabinets, furniture, drywall, ceiling, flooring (and sub-flooring) and any other structures that have been damaged by water. We want to make sure that these are repaired and that the structure of your home is sound. Once you are satisfied with our repairs, we move on to the final step which is restoring your home or business to it's pre-water damaged condition. This means, painting, installing new carpet (if necessary) and making sure that the look and feel of your home is as good or better as before the water damage happened.  However, we don't stop there, we will also help file your insurance claim, so you can make sure you are compensated for the loss. If you need water damage repair, water damage cleanup, or water damage restoration in Matthews NC, don't hesitate to contact Carolina Water Damage Restoration!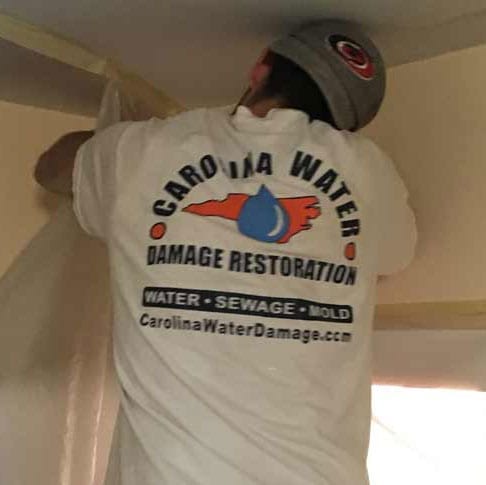 About




Carolina Water Damage Restoration



in Matthews NC
Carolina Water Damage Restoration expanded into the Charlotte market in 2020 and is proud to provide their premium water damage restoration services in Matthews NC. We work with both residential and commercial customers, providing water damage restoration for water damage from a number of causes. Storm damage, hurricanes, flooding, appliance leaks, plumbing issues, and sewage back ups are some of the types of water damage we are equipped to handle. We provide these services to the entire Charlotte metro area including, but not limited to: Matthews, Belmont, Charlotte, Concord, Harrisburg, Northlake Mall, Indian Trail,  Kannapolis,  Matthews, NoDa, Mcadenville,  Mountain Island. Huntersville,Stallings, Gastonia, Pinehall, Kannapolis, Gastonia, Davidson, Lake Norman, Mount Holly, Mooresville, Waxhaw, and beyond.
Why Choose
Carolina Water Damage Restoration
In Matthews & Beyond
When a water damage disaster happens, it can be stressful for you, your family or your employees. At Carolina Water Damage Restoration in Matthews, we understand how important it is to get your life back to normal as quickly as possible. That's why we are on call 24/7 to provide water damage clean up, mold remediation, storm damage repair, flood clean up, and water damage repair in Matthews. We always work hard to communicate with all of our customers so we can help you understand how far along we are in the process because this can help alleviate some of your stress. When you work with our water damage repair team, we'll even work with your homeowners insurance to make sure your claim is filed properly and that you are compensated for your losses. We have years of experience in the water damage industry and look forward to putting our skills to use for you. If you live in Matthews NC and need water damage repair, restoration or clean up, contact the experts at Carolina Water Damage Restoration at 980-308-2847, we're always on call.
See What Our Customers Have To Say!
Stefanie G Cuadra ★★★★★ Last year, I called almost every company in Charlotte in desperate need for someone to come inspect my previous home after a leak caused extensive water damage to the downstairs. Jake came that very morning! Not only did he and his team restore the entire downstairs but also handled most communication with my insurance to prevent unwanted issues related to the claim. My adjuster was not the easiest to work with so thank you!He worked for months trying to restore my house back to its original state and worked with me during many difficult situations that arose throughout this process.
Linda ★★★★★ I recently had a water leak and my entire upper level was flooded. I called Carolina Water Damage Restoration for help. Jake came out in less than an hour and went straight to work. He not only helped us with cleanup and repair, he also helped with the insurance process. He is very responsive, polite, and helpful. I highly recommend this company.
Betsey Hawthorne ★★★★★ I highly recommend Jake and Carolina Water Damage Restoration of Charlotte. We had a washing machine overflow on the second floor of our home. Jake came to our house and performed the demo and mold remediation himself very quickly. He is extremely responsive, professional, fair priced, and respectful. He was invaluable in helping us navigate the insurance claims process and subcontractors for repairing the extensive damage to our home. At one point, we thought our cat had escaped, and Jake insisted on helping us look for him. Great guy. I hope we do not have any water damage in the future, but if we do, Jake will be our first call without a doubt.
Drew Lanning ★★★★★ I cannot recommend this company enough! If you have any water damage issues, Jake from Carolina Water Damage and Restoration is the only person you need to call. Jake was at my house within 30 minutes of my first call. I had a leak in our 2nd floor laundry room that soaked through the ceiling, walls, and flooring on the 1st floor. Jake was quick to assess all of the damage and provided extensive photos/documentation for insurance. He even worked directly with the insurance company to make sure all the necessary repairs were covered.For the cleanup and restoration work, Jake was careful to protect all my belongings and he made sure I could live and work from home with as little interruption as possible. He organized every step of the project and was always responsive to calls and texts. He went above and beyond to get the project across the finish line, and I am incredibly thankful for all the work Jake and his team did on the house.
Jennifer Evans ★★★★★ Jake was very professional. We received excellent work from him and his subcontractors at a very reasonable price. They were prompt and knowledgeable. I would definitely recommend his company.
Andrew Brown ★★★★★ Jake and his team did a great job. They restored my interior from water damage, including mold removal. Fair pricing, professional, and ensured I was satisfied with everything.
Roamy Kilmer ★★★★★ Jake and his team showed up within a few hours of a leak...the first plumber left....Jake stayed with us and helped to find the problem and then gave us excellent and resonable repair costs! The peace of mind was incredible! Jake was responsive always answered a call or text...even on the weekends. If you need water damage restoration...Jake with Carolina Water Damage Restoration here in Charlotte is your go to!
Basmah Rahman ★★★★★ CWDR did a phenomenal job on my parents' house after we had late night plumbing issue that resulted in water damage through 3/4 of the house and the mitigation required drying out several rooms, flooring repair and carpet restoration. Jake works fast, efficiently and documented every step of his work which made it super easy to provide the information our insurance and warranty company needed to cover the cost. The house is a new construction and the builder's have their own list of approved vendors, we were so impressed with Jake's work that recommended that they include CWDR in their list for future work. We couldn't be more pleased with how nicely everything was restored back to new. He made sure that despite all the work that needed to be done, that we still were able to function normally, which was a huge blessing given that everyone is staying home and quarantining these days.
Fahim Rahman ★★★★★ Four weeks ago we had a serious water overflow in our house. This event flooded bathroom, two bedrooms, corridor, laundry room and kitchen area. The damage was extensive. From webpage I randomly picked a company and called Carolina water Damage company and I am glad that I did . Jake, from Carolina water company responded and arrived at our place within half an hour and quickly installed equipments for mitigation. After mitigation was done in couple of days, repair work that included bathroom vanity, carpets, flooring , base boards and painting etc was carefully estimated and then carried out quietly and completed proficiently. Jake also kept our insurance company in the loop throughout . Jake is very efficient, polite and friendly Individual and I would strongly recommend him for water damage mitigation and repair work.
Seth Oprea ★★★★★ Jake, the owner, showed up at our house an hour after some flooding occurred. He diagnosed and handled the issue very clearly, and within 48 hours all our floors and drywall were completely dry. He's very personable and professional, and he does his work at a very good value. I hope I never have to talk to him again, but if life happens then I'm absolutely calling Carolina Water Damage Restoration.
Contact Us For Water Damage Restoration & Repair in Matthews NC
Contact Us!