Storm Damage Repair, Mold Remediation, & 24/7 Emergency Water Damage Repair & Restoration in Matthews NC
If you own a home or business in Matthews NC, you never want to have to call a water damage restoration company, but it's good to have one you can count on if you need water damage restoration. Carolina Water Damage Restoration of Charlotte specializes in water damage restoration no matter what caused it. We provide our services to both residential & commercial customers in Matthews & the surrounding areas. Because we are fully licensed and IICRC certified you'll always know you can count on us.
When you call or contact Carolina Water Damage Restoration, we'll ask the right questions to find out the cause of the water damage and determine the initial scope of the project. That way, when we deploy our quick response water damage repair team, they will know what to expect. When our team arrives they will immediately find the source of the water damage and make sure it is repaired to stop the water damage from spreading. Once we have stopped the water damage at it's source, we will make sure the damage is contained and assess the affected areas.
Following the initial assessment we will begin our water dry out and water damage cleanup process. Depending on the severity this part of the process can take a while, however, we make sure that the moisture & humidity levels in the affected areas are brought within acceptable levels before we start restoring the spaces. During this phase, we also make sure that there is no mold growth or other pathogens that are lingering around (especially after a sewage backup). We will also take inventory of any personal property or furniture that has been damaged beyond repair so we can submit this with your insurance claim.
Next we begin the water damage repair process. This is where we start repairing cabinets, furniture, drywall, ceiling, flooring (and sub-flooring) and any other structures that have been damaged by water. We want to make sure that these are repaired and that the structure of your home is sound. Once you are satisfied with our repairs, we move on to the final step which is restoring your home or business to it's pre-water damaged condition. This means, painting, installing new carpet (if necessary) and making sure that the look and feel of your home is as good or better as before the water damage happened.  However, we don't stop there, we will also help file your insurance claim, so you can make sure you are compensated for the loss. If you need water damage repair, water damage cleanup, or water damage restoration in Matthews NC, don't hesitate to contact Carolina Water Damage Restoration!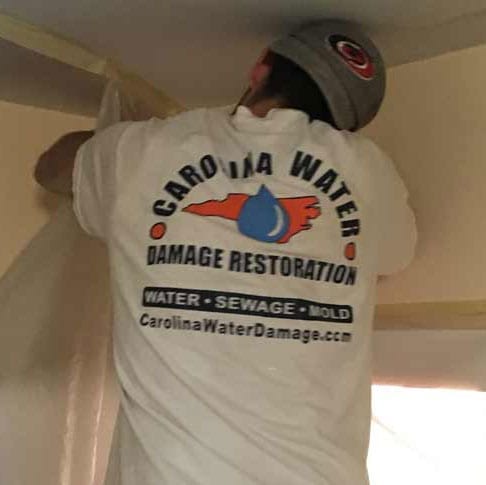 About




Carolina Water Damage Restoration



in Matthews NC
Carolina Water Damage Restoration expanded into the Charlotte market in 2020 and is proud to provide their premium water damage restoration services in Matthews NC. We work with both residential and commercial customers, providing water damage restoration for water damage from a number of causes. Storm damage, hurricanes, flooding, appliance leaks, plumbing issues, and sewage back ups are some of the types of water damage we are equipped to handle. We provide these services to the entire Charlotte metro area including, but not limited to: Matthews, Belmont, Charlotte, Concord, Harrisburg, Northlake Mall, Indian Trail,  Kannapolis,  Matthews, NoDa, Mcadenville,  Mountain Island. Huntersville,Stallings, Gastonia, Pinehall, Kannapolis, Gastonia, Davidson, Lake Norman, Mount Holly, Mooresville, Waxhaw, and beyond.
Why Choose
Carolina Water Damage Restoration
In Matthews & Beyond
When a water damage disaster happens, it can be stressful for you, your family or your employees. At Carolina Water Damage Restoration in Matthews, we understand how important it is to get your life back to normal as quickly as possible. That's why we are on call 24/7 to provide water damage clean up, mold remediation, storm damage repair, flood clean up, and water damage repair in Matthews. We always work hard to communicate with all of our customers so we can help you understand how far along we are in the process because this can help alleviate some of your stress. When you work with our water damage repair team, we'll even work with your homeowners insurance to make sure your claim is filed properly and that you are compensated for your losses. We have years of experience in the water damage industry and look forward to putting our skills to use for you. If you live in Matthews NC and need water damage repair, restoration or clean up, contact the experts at Carolina Water Damage Restoration at 980-308-2847, we're always on call.
See What Our Customers Have To Say!
Contact Us For Water Damage Restoration & Repair in Matthews NC
Contact Us!