Water Damage Repair, Cleanup, Restoration, Sewage Backup Cleanup, Storm Damage Repair & More in North Davidson (NoDa).
Carolina Water Damage Restoration in North Davidson (NoDa) specializes in providing high quality water damage repair, cleanup & restoration to commercial and residential customers. Any restoration service related to water damage, such as sewage backup, mold remediation, or storm damage restoration, are all available 24 hours a day, 7 days a week.
When you speak to our water damage restoration professionals in NoDa, you'll see that we place an emphasis on customer satisfaction. Just because water damage is routine for us, doesn't make it any less worrisome for you. We understand that if a water damage situation displaces you or your family, you want to understand what we're doing and how far along we are in the process so you can have peace of mind. We communicate with our customers throughout the entire process so you can rest easier knowing where things stand.
Once you contact us, we'll ask a few questions so we can understand the scope of your water damage project. Next we quickly deploy a team on site that will find the source of the water damage and repair it, so as to stop the spread of damage. After the water damage has stopped spreading, we will contain the damage to the areas already affected and begin removing standing water and drying those areas out. Once we have mitigating the water damage, our team will begin to clean and sanitize the area before starting repairs.
After providing all of the necessary repairs, we will start restoring your home to it's pre water damaged condition. We take great care to make sure any carpet, flooring, or paint matches your home's current aesthetic. Our goal is simple, when we finish the job, we don't want you to even realize that there was a water damage issue to begin with. Finally, when all is said and done, we will submit the insurance claim for you, so you have one less thing to worry about during an already stressful time in your life.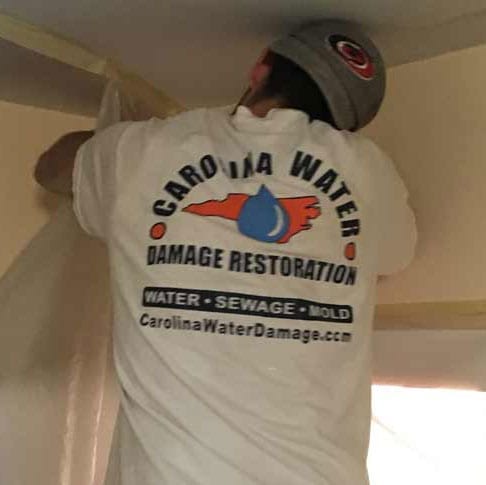 About




Carolina Water Damage Restoration



in North Davidson
Carolina Water Damage Restoration has expanded their operations, which began in Raleigh, to provide customers in Charlotte with high quality water damage restoration. North Davidson, or NoDa, is a great place to live and work, but it is susceptible to water damage throughout the entire year. Large storms, ice storms, and non-natural disasters like water heaters bursting and leaky pipes are all common causes for water damage in NoDa. Fortunately, we are always on call, 24/7, to provide water damage restoration services to our customers in NoDa and around the entire Charlotte market including: Concord, Harrisburg, Mount Holly, Belmont, Huntersville, Mountain Island, Mooresville, Indian Trail, Matthews, Northlake Mall, Gastonia, Mcadenville, Kannapolis, Pinehall, Lake Norman, Charlotte, Stallings, Waxhaw, and the surrounding areas. 
Why Choose
Carolina Water Damage Restoration
If You Own a Home Or Business in NoDa?
Finding a reliable water damage restoration provider that you can trust isn't always easy. You want to make sure your home and/or business is restored to it's previous condition, so making sure the company you choose is IICRC certified is important. On top of our certification, we also work hard to make sure our customers are included in the process. We find that a little communication goes a long way to peace of mind. When you work with Carolina Water Damage Restoration in NoDa, we guarantee that we will work with any homeowner's insurance or property insurance to make sure the process is smooth. While we hate thinking that any of our customers will need us for water damage restoration in NoDa in the future, we understand that water damage happens. Call us 24 hours a day, 7 days a week for ceiling leak repair, mold remediation, storm damage repair or any other water damage restoration service you may need. We can be reached at 980-308-2847 any time of the day or night.
See What Our Customers Have To Say!
Get a Free Consultation For Water Damage Restoration in NoDa