Mold Remediation, Storm Damage Repair, Water Extraction, Sewage Backup Cleanup & Water Damage Restoration Company in Harrisburg, NC
When you need water damage restoration services in Harrisburg, NC, we want to be the name you think of first. Carolina Water Damage Restoration provides high quality water damage restoration services from almost any cause of water damage. Sewage backup, storm damage, flooding, appliance leaks, and ceiling leaks can all lead to water damage. Because our sole focus is on water damage restoration, you can trust that are experts will fix your issues, no matter how big or small, quickly.
We are fully IICRC certified and provide our water damage services to both commercial and residential customers in Harrisburg NC. When you contact a team of our specialists we will ask the right questions to get a feel of the size and scope of the issue so our rapid response team will be prepared to begin the restoration process as soon as they arrive on site. For smaller, non-emergency water damage, we can schedule a convenient time for our professionals to meet with you and begin the process.
As soon as our team arrives on site, we will locate the source of the water damage and make sure it is repaired so it can not continue to cause water damage. Once we have stopped the source of the damage, we will contain the current damage to the affected areas and begin the water extraction and dry out process. As soon as we are done drying the area out and the humidity levels are brought within the acceptable range, we will start cleaning and sanitizing the area. We want to make sure that there are not contaminants that are left over from the damage, we will also inspect for any mold growth.
Next our water damage professionals will begin the repairs. We will make sure that any flooring, walls, dry wall, furniture, or other structures are repaired if possible, however, in some cases they must be replaced. We will take inventory of all of the items that had to be replaced to submit with your insurance claim. Finally, we begin the final touches, which means painting, installing carpet or replacing flooring as necessary. We will make sure that everything matches your current aesthetics, with the goal being that you won't be able to tell you had water damage to begin with. We then file your insurance claim for you, so you don't have one less thing to worry about!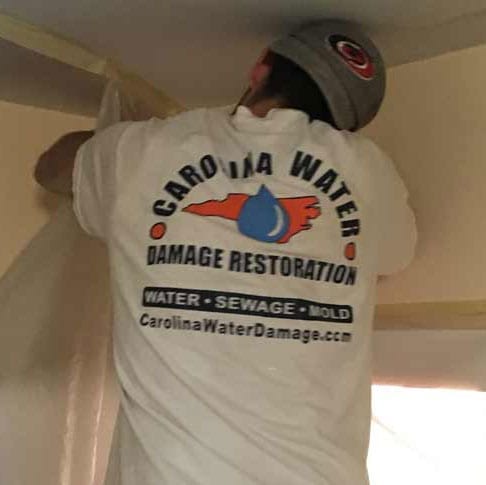 About




Carolina Water Damage Restoration



In Harrisburg, NC
After building a successful water damage restoration business in Raleigh, Carolina Water Damage Restoration has expanded to the Charlotte Market, including Harrisburg, NC. We are familiar with North Carolina and it's climate, and as a local water damage restoration provider, we are able to handle any size project, no matter what caused the damage. We aim to provide superior customer service and quality craftsmanship on every job we take. Our service area includes the entire Charlotte Metropolitan area and beyond, which includes: Noda, Stallings, Gastonia, Belmont, Charlotte, Concord, Harrisburg, Kannapolis, Gastonia, Davidson, Lake Norman, Mount Holly, Mooresville,, Mountain Island, Northlake Mall, Indian Trail, Matthews, Huntersville, Mcadenville, Pinehall, Waxhaw, and beyond.
Why Choose
Carolina Water Damage Restoration
If You Live in Harrisburg, NC
When you need water damage restoration, sewage backup repair, mold removal & remediation, flood damage restoration, or storm damage clean up in Harrisburg, you should choose a company that is certified and licensed. We are IICRC certified and while we understand how important that is, we are also extremely customer oriented. We understand that, while water damage restoration is part of our normal day, for our customers it may be a once-in-a-lifetime even that they would rather forget ever happened. Water damage problems can cause stress and uncertainty, which is why we communicate with our customers through every step of the process. We want you to feel like you can always count on us and we will always answer any questions you may have about your water damage restoration project that we are working on. If you have experienced a water damage issue and need any of our restoration services, call us at 980-308-2847 24 hours a day, 7 days a week.
See What Our Customers Have To Say!
Get a Free Consultation For Water Damage Restoration in Charlotte & Beyond
Contact Us!