Flood Damage Cleanup & Repair in Charlotte, Matthews, NoDa
And Surrounding Areas
Charlotte Flood Restoration, Repair and Cleanup Services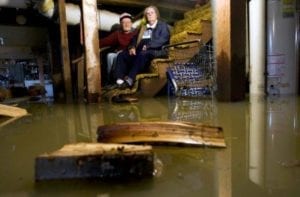 If your home or basement has flooded, you want a charlotte flood restoration company that you can count on to provide high quality flood damage restoration, repair and basement flood cleanup Charlotte or the surrounding areas. There are many reasons a basement or home may flood, such as leaky or broken pipes, storms, or sewage backup, but no matter what the cause of the flood it's important to address the issue as quickly as possible. Basement floods, in particular are dangerous because if left unchecked, they can result in structural damage to the entire foundation of your home. All floods, if not cleaned properly can lead to mold growth in your home as well. Carolina Water Damage Restoration of Charlotte provides flood restoration and basement flood damage cleanup Charlotte, Matthews, NoDa, Concord, and the surrounding areas. If we find water damage or mold, we also provide water damage repair and mold remediation in the area. Call us at 980-308-2847 or contact us online for a free consultation on Flood Damage Cleanup Charlotte.
Charlotte Flood Restoration, Cleanup, Repair Services in NC & Beyond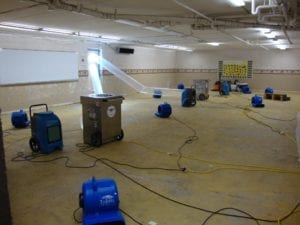 When you have a flood in your home or your business, responding quickly is imperative to making sure that the flood damage is mitigated and your home's structure is kept intact. Carolina Water Damage Restoration of Charlotte is on call 24/7 for flood damage repair, flood damage restoration, and flood damage cleanup Charlotte. Once our repair technicians arrive on site, we will make sure the source of the flood is repaired so it can't spread to other areas of your home. We will then assess the flood damage and determine which of the follow Charlotte water damage restoration services are required:
Roof Repair
Debris Cleanup
Painting & Trim Services
Any Other Flood Restoration Need
Basement Flood Cleanup, Restoration Services in Charlotte & Beyond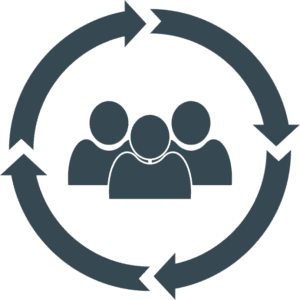 Because your basement is usually the lowest area in your home, it can be susceptible to flooding. Often times, basements are low traffic areas in homes, so a leaky pipe or pooling water may go unnoticed for a while. If your basement starts to flood, it can cause structural damage to your home, cracks in the foundation of your home and mold growth. That's why it is important, at the first sign of a flood in your business to call Carolina Water Damage Restoration. We are on call 24/7 to provide basement flood cleanup and restoration in Charlotte NC and the surrounding areas. We will make sure that the water is removed, debris is cleaned up, water damage is repaired, and that there is no mold growth. Give us a call at 980-308-2847 or contact us online for a free consultation on basement flood cleanup Charlotte.
Get a Free Consultation For Basement Flood Cleanup & Flood Restoration in Charlotte, Stallings, Concord & Beyond
Carolina Water Damage Restoration in Charlotte takes pride in the high quality and our quick response for flood damage cleanup & basement flood restoration in the Greater Charlotte Metro area. We are IICRC certified and fully licensed to handle any size flood you may have experienced. Aside from flood damage cleanup Charlotte, we also provide a number of other residential and commercial water damage restoration services such as: Storm Damage Repair, Appliance Leak Water Damage Repair, Mold Remediation, Sewage Backup Cleanup, Ceiling Leak Water Damage Restoration, Crawl Space Repair, Hardwood Floor Water Damage Repair, and 24/7 Emergency Water Damage Restoration. We provide these and other services to our entire service area which includes, but is not limited to: Mountain Island, Mcadenville, Lake Norman, Indian Trail, Matthews, NoDa, Belmont, Pinehall, Mount Holly, Charlotte, Concord, Northlake Mall, Waxhaw, Stallings, Kannapolis, Mooresville, Harrisburg, Gastonia, Huntersville, and beyond. Schedule a free consultation with us, or a time for us to come cleanup your basement flood in Charlotte by calling 980-308-2847 or by contacting us online.