About Carolina Water Demage, Disaster Restoration Company in Charlotte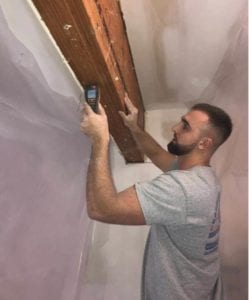 After building a successful company in Raleigh, North Carolina, Carolina Water Damage Restoration made the decision to expand into the Charlotte Market. Jake Saliani, began the preparations to open a Charlotte office in late 2019. The Charlotte office opened in 2020 with the same goal, to provide superior water damage restoration services in Charlotte and the surrounding areas.
Having a sole focus on water damage allows the professionals at Carolina Water Damage Restoration to deliver high quality service and employees who are experts in water damage restoration and the other types of restoration that comes along with water damage, or that leads to water damage issues.
With an IICRC certified team and state of the art drying equipment, Carolina Water Damage Restoration is well equipped to respond quickly to any size and type of water loss in central and eastern North Carolina. We are ready to pick up the phone with a live member of our team 24/7 365 days of the year. Our promise to you is to minimize the chaos of your home's loss and it's affect on your personal life. Let us take the extra work load off your hands of dealing with your insurance company by dealing with them one on one from start to finish! We are able to work with ALL home insurance companies.
If You Are Experiencing a Water Damage Emergency in Charlotte NC….
..call us immediately at 980-308-2847 if you are experiencing a water damage emergency in North Carolina. We are open 24 hours a day and 7 days a week. We currently provide service to the following areas:
If you are experiencing a non-emergency water damage situation, sewer backup situation, mold issue, or have storm damage or flooding that you need to have assessed and repaired, please contact us online and one of our representatives will be in touch with you shortly.
Get a Free Consultation For Water Damage Repair, Cleanup & Restoration in Charlotte NC
Carolina Water Damage Restoration in Charlotte is IICRC certified and provides services to residential and commercial customers across the greater Charlotte Metropolitan area. We are on call 24/7 to respond quickly to water damage emergencies and non-emergencies alike call us at 980-308-2847 or contact us online if you need a water damage restoration expert in Charlotte.