Storm Damage Restoration, Flood Cleanup, Sewage Backup Repair & Cleanup, Mold Remediation & Water Damage Restoration in Charlotte, North Carolina
When you have a water damage issue in Charlotte, we can help. Carolina Water Damage Restoration specializes in providing Water Damage Restoration to both residential & commercial customers in Charlotte. We work on storm damage, appliance leaks, sewage backup, mold remediation, emergency water damage restoration, and more, 24 hours a day, 7 days a week. We are IICRC certified and are able to handle any size job, big or small.
Our water damage restoration experts start the moment you first contact us. We will ask questions about the type of water damage that you've been affected by and the amount of damage, so that we can be prepared when we arrive on-site. The first thing that happens when our water damage professionals do arrive is that we locate the source of the water damage, so we can make sure it is fixed and that the damage is stopped. We will then make sure to contain the damage so it doesn't spread to other sections of your home or business. Once the damage is no longer spreading, we will begin the process of removing excess water and drying out the areas that have been affected. As soon as the drying is finished we will clean and sanitize the area.
Because water can sometimes contain contaminants and can lead to mold growth, we will make sure that your humidity is within acceptable levels and there are signs of mold before we begin our repair process. We will also take inventory of any items or property that has been damaged beyond repair and needs to be destroyed so that they can be submitted on your insurance claim and you can be compensated. Finally, we will begin repairs on flooring, structures, furniture, dry wall and anything else that sustained damage during the incident.
Once everything has been repaired, we will begin to restore the area to it's pre-damage condition. This includes painting and other aesthetic work that is required to make your home look and feel like it did before you had any water damage at all. We will try our best to match any replaced carpets, flooring, or tile so that you can't tell that water damage ever occurred to begin with. We will even help you with your insurance claim, submitting any additional documents that they need. If you have a need for water damage restoration in Charlotte, contact Carolina Water Damage Restoration 24 hours a day, 7 days a week.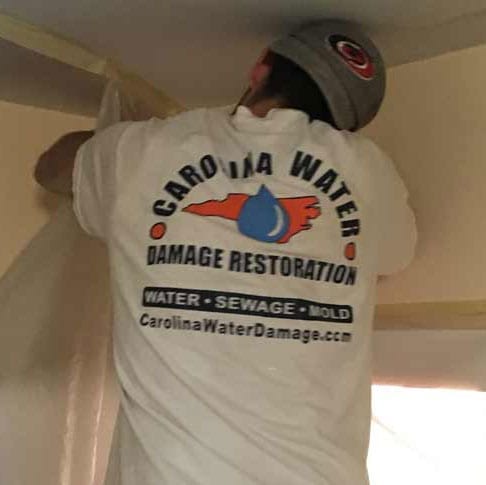 About




Carolina Water Damage Restoration



Charlotte & The Surrounding Areas
Carolina Water Damage Restoration started in Raleigh, but expanded into Charlotte in early 2020. While Charlotte is a great place to live and work, it has it's share of weather issues. From hurricane remnants to ice storms, there are a number of natural disasters that can cause water damage. Man made issues also can create water damage issues in your home or business. Carolina Water Damage Restoration provides water damage repair, storm damage cleanup, mold remediation, and other restoration services that are related to water damage. We provide these services throughout the entire Charlotte area, which includes: Concord, Harrisburg, Waxhaw, Stallings, Gastonia, Indian Trail, Northlake Mall, Mountain Island, Mcadenville, Belmont, Pinehall, Rock Hill, Kannapolis, Matthews, NoDa, Kannapolis, Gastonia, Davidson, Lake Norman, Mount Holly, Mooresville,  Huntersville, and the surrounding areas.
 Choose
Carolina Water Damage Restoration
For Water Damage Repairs in Charlotte!
When you are trying to find a company to provide water damage restoration, mold remediation, flood cleanup, storm damage repair, sewage backup & septic backup cleanup, or any other water damage related issue, make sure they are IICRC certified. Carolina Water Damage Restoration is fully licensed and certified and we only specialize in water damage & water damage related restoration services. We know that for you, being displaced from your home or having part of your home made unusable by water damage is stressful and can cause uncertainty. That's why we communicate with you throughout your water damage restoration project, so you know the progress we've made and you can have some peace of mind. We'll even work with you to make sure that your insurance claim is filed properly and you have all of the required documentation from the job to get fully compensated. We are on call 24 hours a day for water damage restoration in Charlotte, so call us at 980-308-2847 for a free estimate!
See What Our Customers Have To Say!
Free Consultation For Charlotte Water Damage Repair
Contact Us!